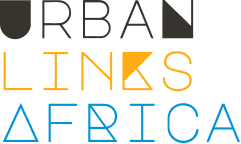 Connected Places Catapult
In August, we were contracted by Connected Places Catapult to support their Urban Links Africa project – which is funded by the Global Challenges Research Fund and Innovate UK. The programme aims to connect innovators, entrepreneurs, city leaders and tech hubs to develop innovations that solve quality of life challenges that certain cities in Africa are facing. 
We were brought on to facilitate the development of six collaborative UK-African partnerships who will create innovative technology solutions that address specific civic challenges related to SDG goals for six cities in Kenya and South Africa. The core values of this project are collaboration, innovation and sustainable growth that will ultimately bridge the gap between industrious entrepreneurs and startups with city authorities. 
The cities and their challenges
Cape Town – Building resilience in informal settlements
Durban – Solid waste management and pollution
Johannesburg – Sustainable mobility
Nairobi – Solid waste management
Mombasa – Stormwater drainage and flooding
Kisumu – Wastewater management
With authorities and startups spanning cities and country borders, removing silos and instilling a feeling of community was a big challenge to the ULA mission. The task then was to create a digital hub that would not only host the programme but actively support the innovation and development efforts that were tackling the civic challenges – from promotion through to the sharing of resources and collaboration tools.
We designed, built and deployed a digital platform which enables businesses to find other organisations and together, collaboratively develops innovative ideas that address the city challenges. 
The digital platform brings together relevant news, events, companies, workspaces and resources for the ULA project, enabling users to create their own profiles and content, leveraging messaging and networking functionality to promote stakeholder engagement, facilitating project planning and tracking and promoting collaboration through whiteboarding features and in-built video conferencing.
The user journey operates as follows:
Challenges are set

– each corresponds to every city's particular civic challenges (as outlined above).

Collaborations are formed

– UK innovators find African counterparts to work with on solutions that help solve these challenges together. These connections are enabled and promoted by the networking and collaboration features built into the platform. Successful applications receive grant funding. 

Projects are developed

– via the collaboration functionality on the platform, project teams have private digital spaces where they can work on shared documents, host whiteboarding sessions, complete video calls, establish project milestones and track accountability. This functionality links with the most popular project management and communication tools.

Communication channels formed

– the CPC programme managers can interact directly with project teams, individuals or the whole cohort. New resources, events and ideas are shared via the platform. Updates from the project are posted on the publicly accessible section of the site, providing anyone with information relevant to the cities and themes being tackled – through integrations with news, events, jobs and courses providers, all with tailored API filters set
We provide effective, continuous project management support to the ULA team to ensure the success of the platform deliverables and wider project, defining the project roadmap, tracking project status and regularly reporting on progress and insights. 
In a world drastically changed by the pandemic, the ULA platform is a key tool in addressing the challenges found in cross-border collaboration and helping to facilitate meaningful connections despite geographical barriers. Although it's only at the beginning of its implementation, the platform is already proving to be the most technological, interactive and comprehensive collaboration technology the Catapult has seen, with over 500 new suppliers in the first month and a projected 5000 over its lifetime.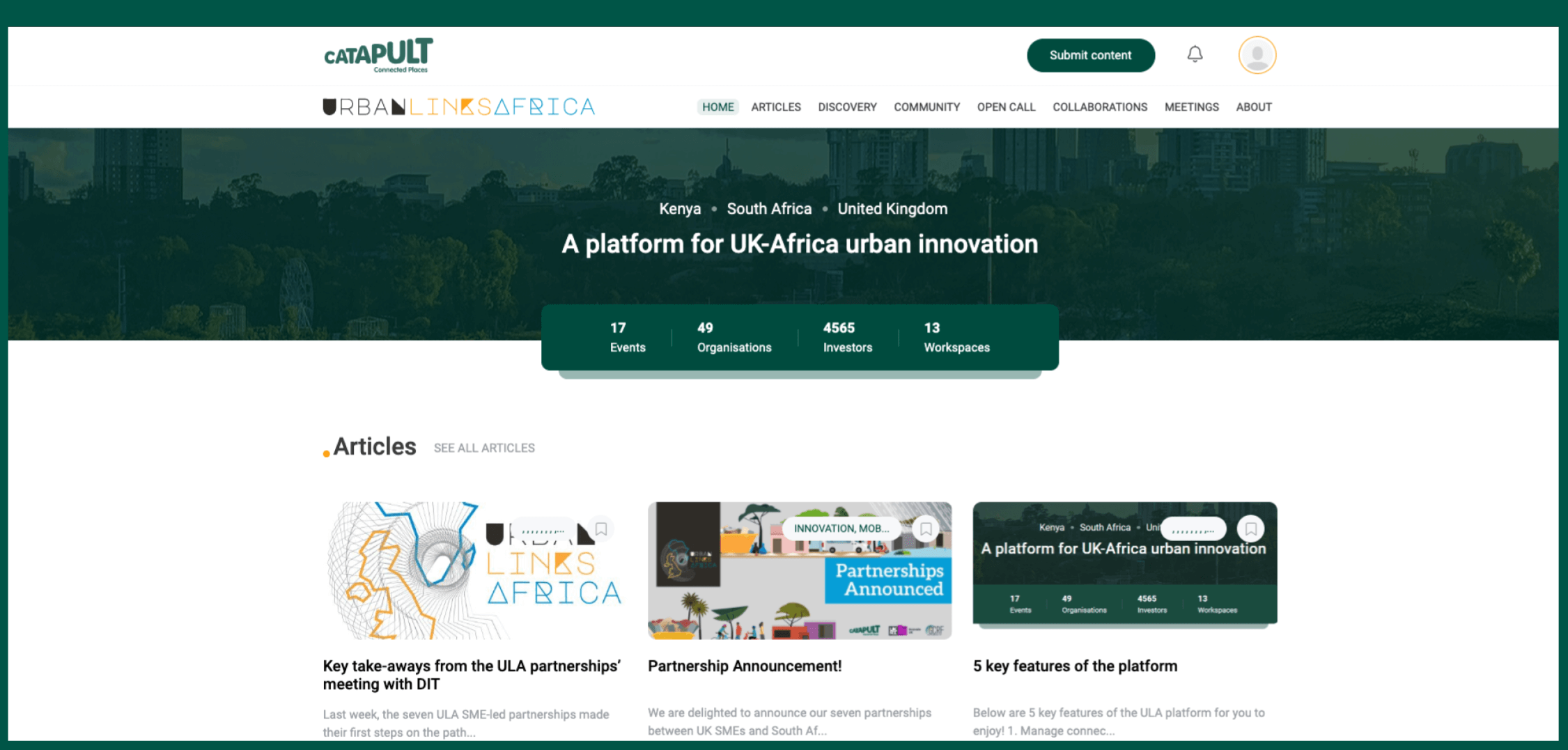 A hub for innovators in Africa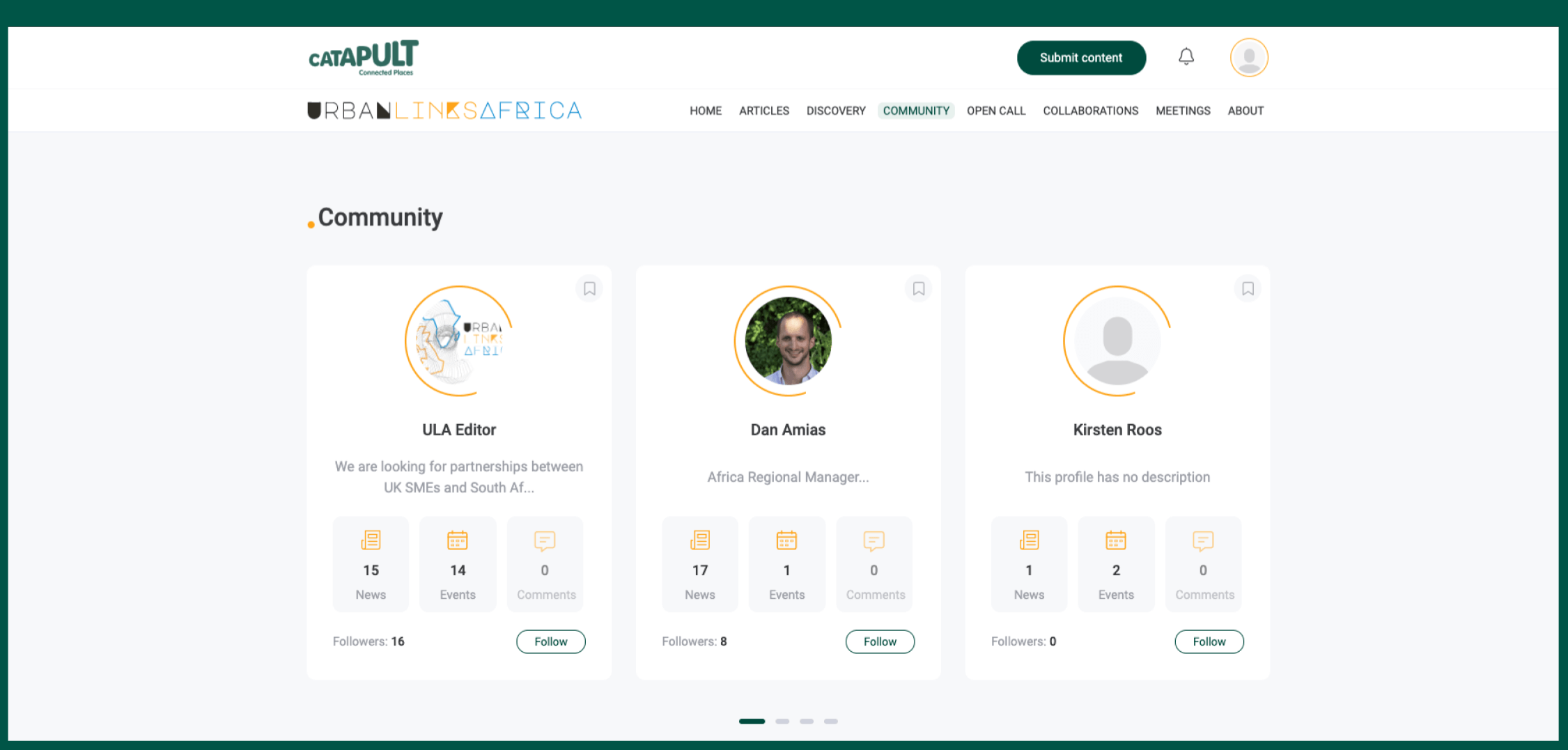 Rich profile and community pages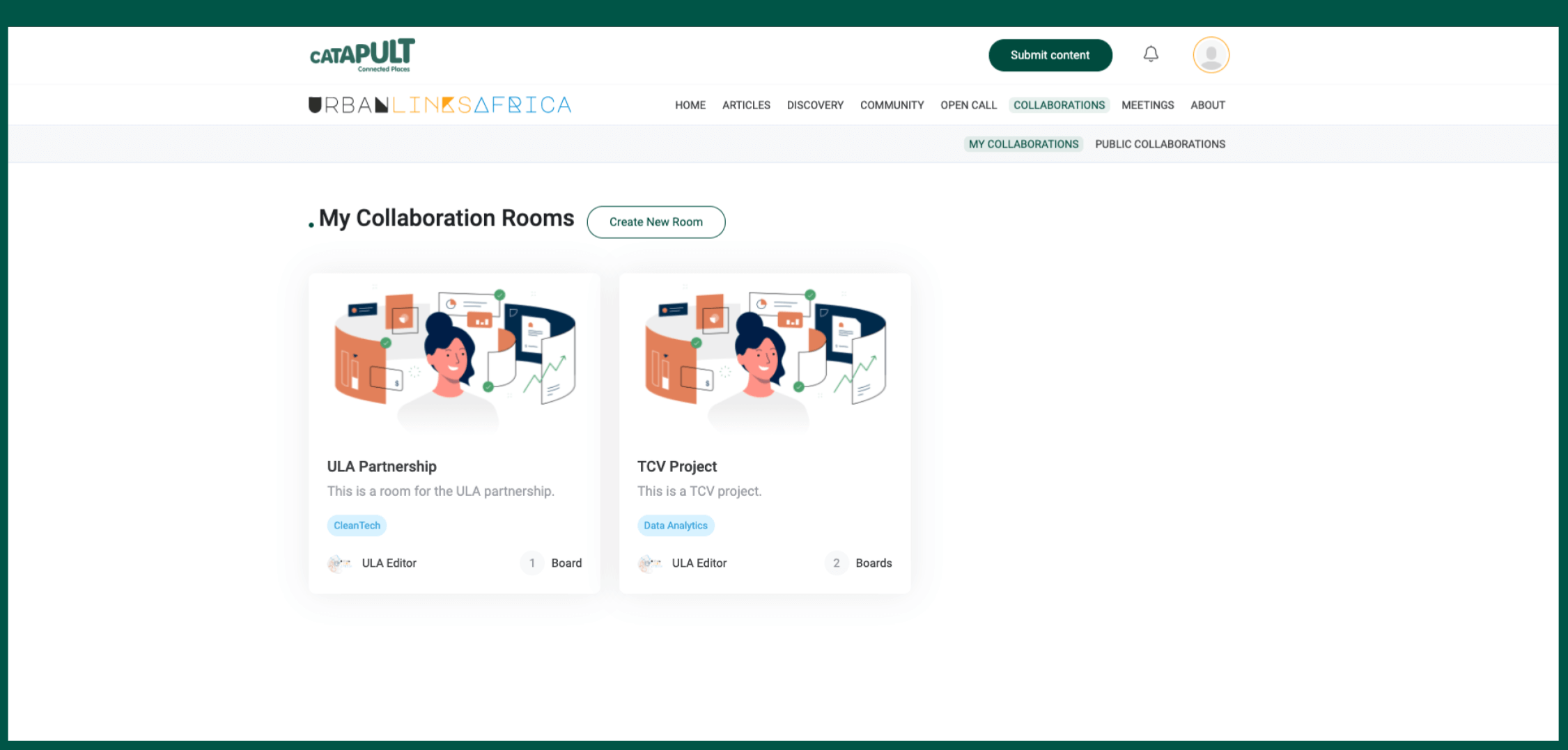 Interactive collaboration rooms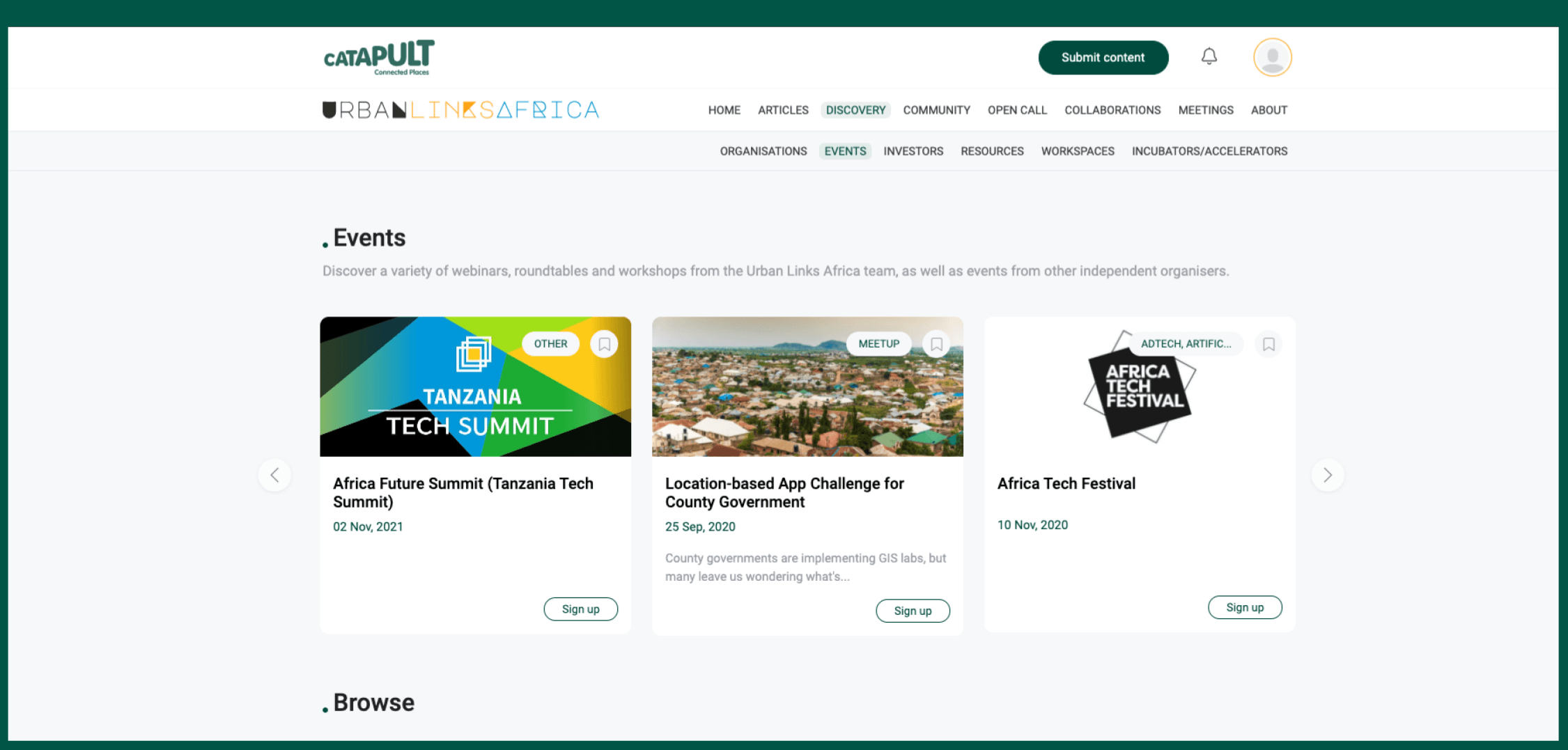 Event and workshops for innovators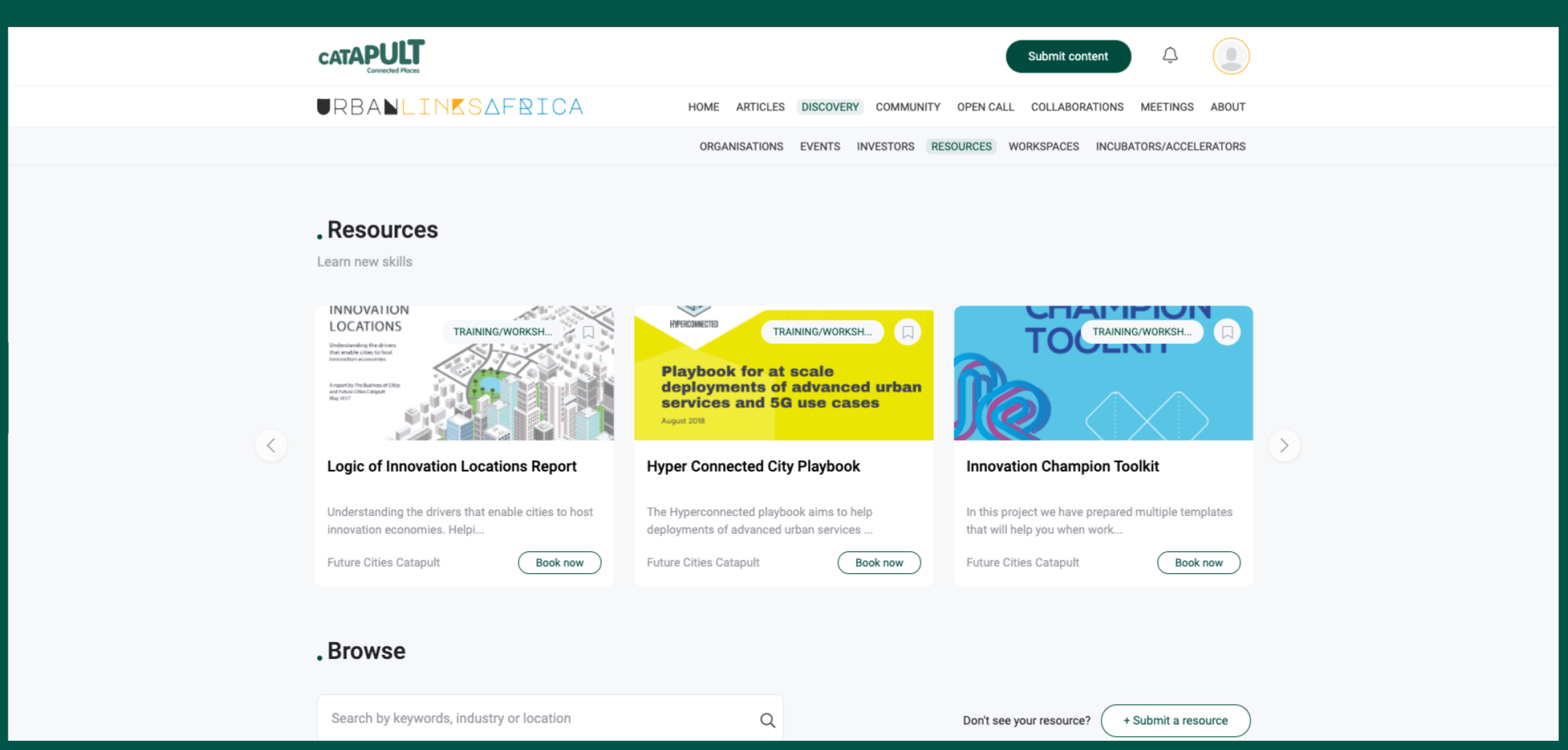 Support and resources for SMEs