This week:
Future planning, active transport and the 15-Minute City
Welcome back to Govsight.
This week we look at the popularisation of the '15-Minute City', how communities can help to shape their local transport network and a reminder for transport planners that there still are deep inequalities in active travel.
Make sure you follow the conversation on our Twitter and if you've been forwarded this email, you can sign up here.
Enjoy,
George Lintott
Editor, Govsight
The rise of the 15-Minute City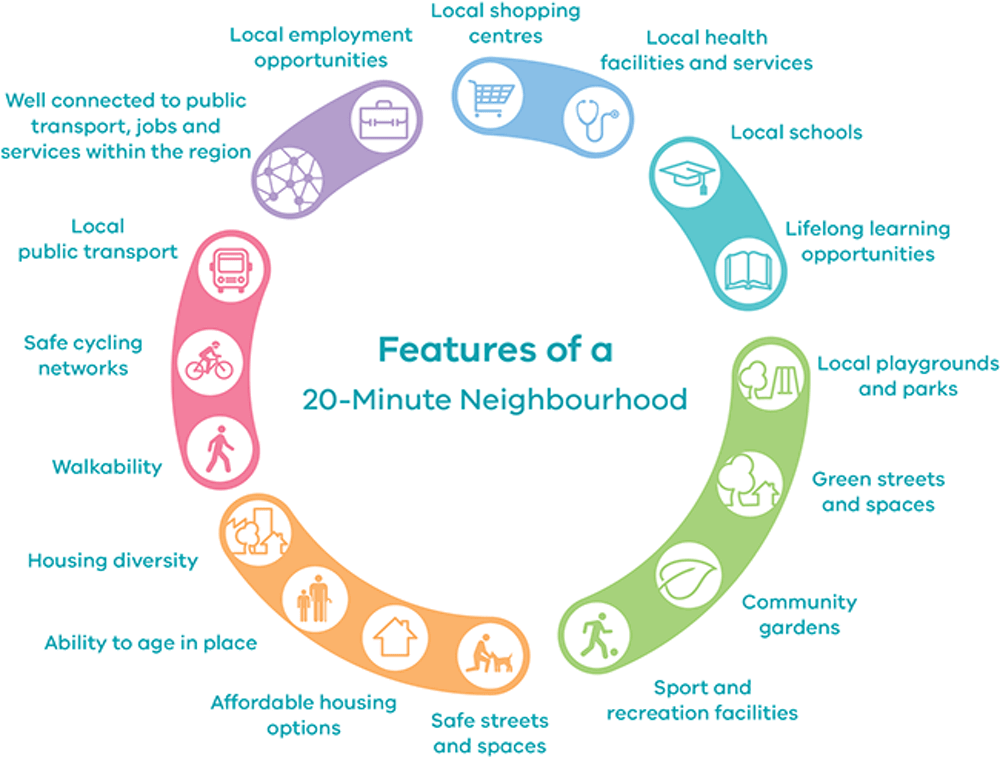 What's happening here?
Ideated by Professor Carlos Moreno and championed by mayors in Melbourne, Paris, Milan and others, the 15-Minute City is one where residents have all they need within a 15-minute cycle or bus ride.
Many of you observant readers out there may have noticed the 20-minute neighbourhood image above, do not worry, it's the same thing. Melbourne's long-term land-use plan (dubbed Plan Melbourne) has decided it needs 5 minutes more than its European counterparts.
Why is this important?
Whilst the idea has been around for a while, this year we've seen increased interest in the concept. In February, for her re-election campaign, Mayor of Paris – Anne Hidalgo campaigned on the plan. In April, in the midst of the Covid-19 pandemic, the Mayor of Milan also pledged the idea as a solution to curb infection rates and improve public health.
This new type of city planning is being eyed up by many as a model for the future city amongst the C40. The plan aims to minimise long-distance travel, reducing transmission rates and strains on public transport and road networks, with active travel modes championed. It seems as though we're on the cusp of more localised services and land use in cities.
Community-led transport policy
What's happening here?
On the subject of mobility, this week saw a big government announcement releasing £2bn of investment in cycling and walking. Interestingly, the fund will only invest in projects that include a barrier of some kind between cyclists and traffic.
What might have slipped your attention is that under these new measures residents will be able to decide how their side-streets should be used by traffic. These new powers for citizens could see residential streets blocked off to traffic for access only vehicles.
Why is it important?
This looks and sounds like the makings of a 15-Minute City. And as the old saying goes, if it looks like one and quacks like one, then perhaps that is the ultimate plan. But what would this mean for London?
Well, the Borough of Hackney is already taking steps to promote the idea. Whilst it already shows many attributes of a 15-Minute City, it's taking measures to promote and protect these attributes to boost its economy. This includes increasing levels of cycling and restricting certain land-use changes.
With tough finances across the city, a cycling-centric, 15-Minute City could be an answer. This model has been shown to increase the valuation of property, improve the health of citizens and the environment and kick-start local economies. We must remember that cyclists spend 40% more In London's shops than motorists.
Inequalities in active transport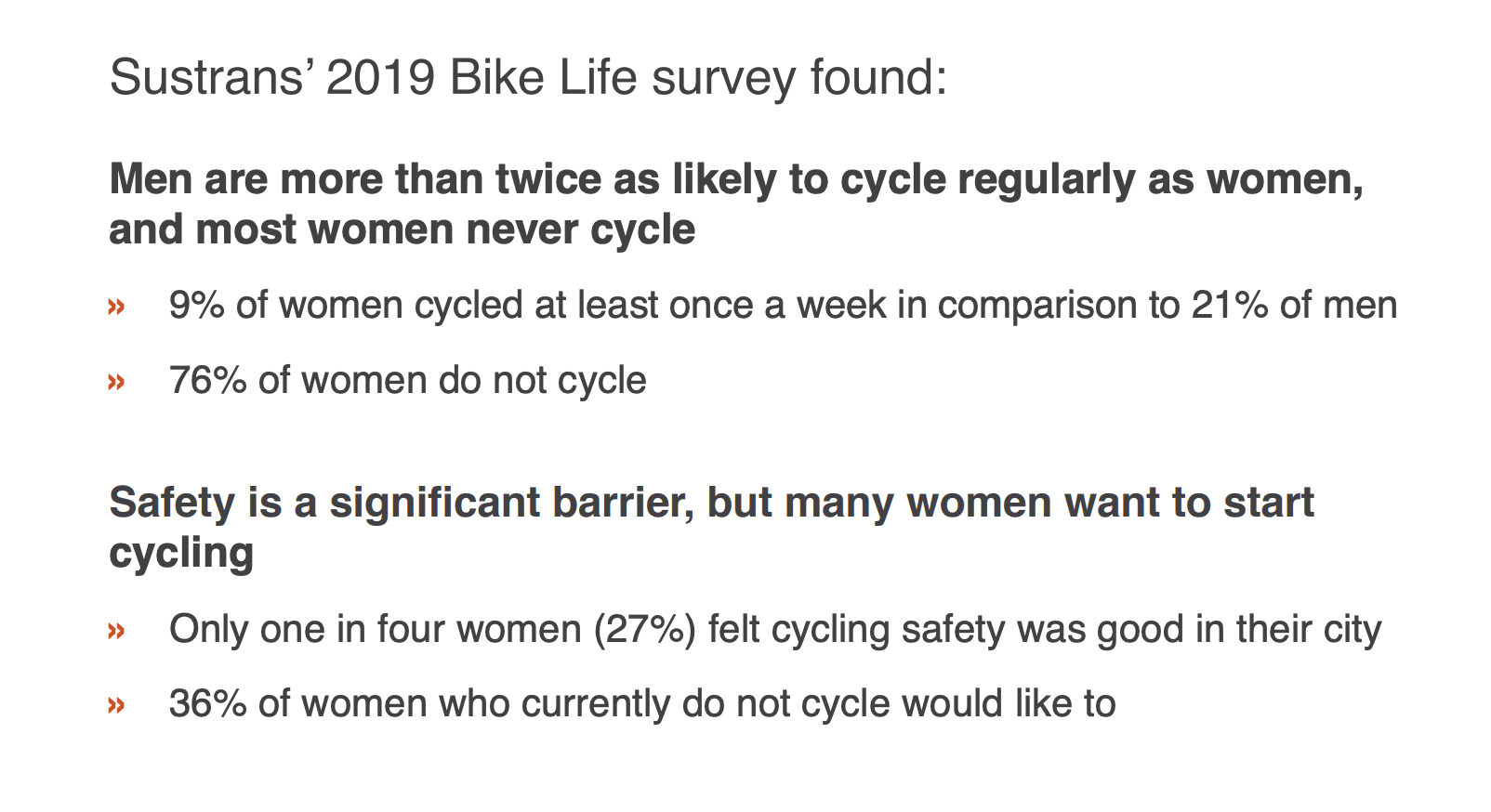 What's happening here?
Remaining on the topic of mobility, Sustrans and Arup have released a fascinating new report about inclusive cycling. For all those who are active travel nuts, this is a must-read.
As you can see from the image above, the report reveals the striking imbalance in cycling usage between white males and well, everyone else. The report calls on transport planners to design their services around the majority of people rather than one part of the population.
Why is this important?
Evidently, this current government's ambitions are in line with those of the proponents of the 15-Minute City. Whilst Rome wasn't built in a day, the fact remains that solutions need to take into account all groups in society to make mass adoption of active travel happen.
A homogenous solution would likely lead to certain groups being ignored and excluded from the transport revolution. The idea of the 15-Minute City is a great one, but it only works if it takes into account the priorities and concerns of the many. Otherwise, it's a city built on fragile foundations (unlike ancient Rome).
Monday 3 August is the deadline for the 
CivTech 5.0
 challenges. We've listed a few here which look interesting.
Challenge 4: How can digital help invent the future of immersive learning? Apply here.
Challenge 7: How can we use technology to create a smart and sustainable travel network in remote and rural areas? Apply here.
Challenge 8: How can digital and IoT help the management of infection control in caring environments so that they become safer for everyone who lives, works and visits in them? Apply for it here.
Now I know you must be asking – where is my SME Advisory?
Whilst the Covid-19 pandemic is far from over, we're suspending the SME Advisory section unless we see some worthwhile notices that you must see. In the meantime, here's what we've been up to.
LOTI, GLA & Nitrous
We were very proud of our latest work with the Greater London Authority and the London Office of Technology. We've got plenty of exciting announcements to make soon, but here's a sneak preview from Eddie Copeland in a recent interview the UK Authority, which you can find here.
Govsight is Nitrous' fortnightly digest, filled with pocket-size insights into how technology is disrupting cities (CityTech).
At Nitrous, we work with the public sector, corporate actors and tech SMEs to develop co-creation ventures that address city challenges.
Enjoyed this edition of Govsight?
Subscribe and receive the next in your inbox.